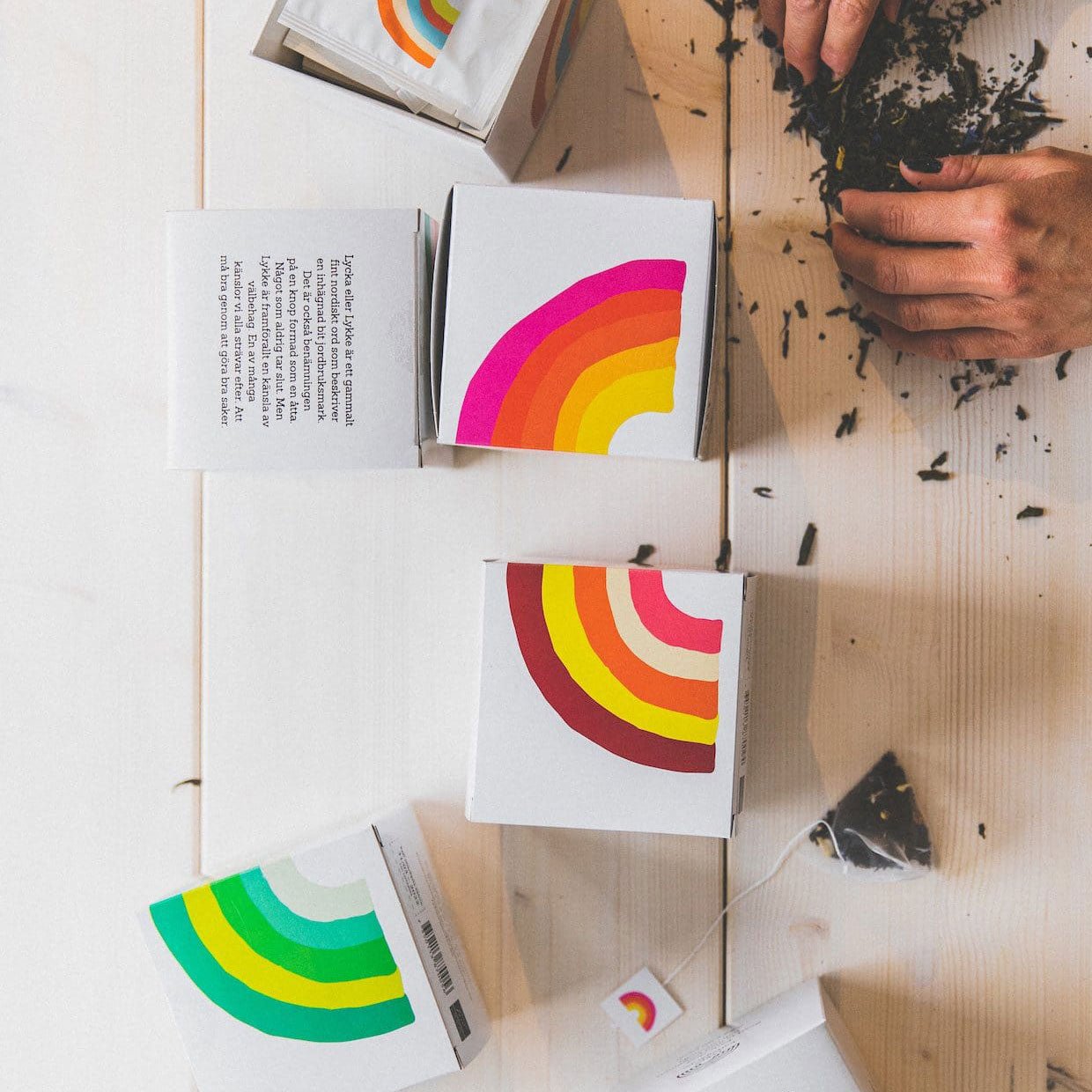 TEA TASTING - 8 Flavours
Buckle up and follow along on a tiny tea adventure with this tasting pack of assorted teas from us at Lykke.
This pack will give you a chance to try all our teas, and most likely find your new favourite amongst our carefully selected assortment. This is the perfect opportunity if you can't decide which tea to buy or if you're just curious and want to treat yourself or a friend to a tea journey. 
The cute and funky package contains the 8 different teas we currently offer:
Green Haze
A green tea with a fruity touch as well as a round mouthfeel. The aftertaste is reminiscent of sweet strawberries. This tea is suitable for making iced tea and is a big favorite at Lykke HQ.

Herbal Rain
This chamomile tea has an herbal touch with blackberries and a cooling aftertaste of mint. A tea that is perfect for drinking in pajamas and before bed.

Mega Fruit
A black tropical tea. Perfect as is, or funk it up with a splash of milk.

Early Grey
A deliciously elegant black tea mixed with bergamot and lemon. A classic with a twist.

Ginger Tronic
A fresh version of green tea that is mixed with ginger. Have a cold? Ginger Tronics got you covered. Mix it with a splash of honey for bigger sensations.

Hej Chai
The perfect chai! A sweet tea with a great balance. Drink it as is or add some sugar and milk for a tasty chai with an even bigger mouthfeel.

Jooibos
Organic Rooibos with lemongrass, verbena, and red orange. Like a soothing touch, an oddly specific complement, or howling in harmony with a dog.

Feliz
Organic green Rooibos with warming spices, red apple, and orange peel. Like a warm hug from your best friend, hearing Celine Dion sing power of love, or finding the perfect hostess gift.
---
Natural flavours
We only work with natural organic ingredients and create flavours with a modern twist on the classics.

Organic?
Yes, our teas are EU certified organic.

Biodegradable tea bags
The teas are packed in a mesh that is made from corn. The box that encases the tea bag is made from paper with a lacto based barrier, which makes the whole packaging biodegradeable.